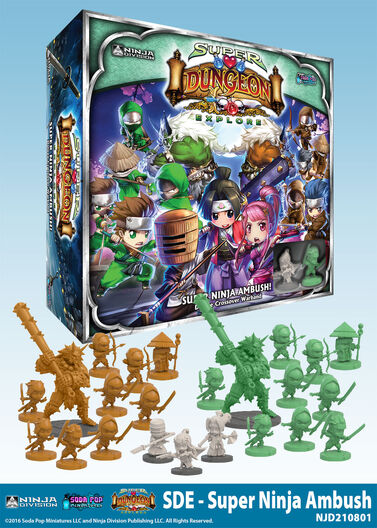 Super Ninja Ambush! is a deluxe crossover warband that is playable in games of Super Dungeon and Ninja All-Stars. Featuring three ronin useable as Super Dungeon Heroes, four Elemental Shrine spawning points, eighteen ninja, and two monstrous oni mini-bosses, Super Ninja Ambush! expands player options with exciting ninja adventure like no other!
Thanks to unique team building elements, Super Ninja Ambush! is incredibly versatile. Players can use all the included miniatures to create Ninja All-Stars themed games of Super Dungeon, use the included air and earth ninja in games of Ninja All-Stars, and even hire out any of the three ronin for their clans in standard and league play games of Ninja All-Stars. 
Both novice and advanced players will enjoy the wide range Super Ninja Ambush! offers. Ninja Division Publishing is also committed to the growth of Super Dungeon with thrilling expansions and also greatly supports organized play communities of Ninja All-Stars with an impressive array of tournament and league kits that feature unique narratives and fun prizes for participants. Whether playing amongst friends or family, Super Ninja Ambush! is sure to be a hit with all!
1x Mochizuki (Hidden Shrine Infiltrator)
1x Komuso (Hidden Shrine Mystic)
1x Momotaro (Hidden Shrine Master)
2x Oni
4x Elemental Shrines
2x Chunin
2x Madoushi
4x Kunoichi
4x Yajiri
6x Kaiken
Hero Cards
-Classic Monster Cards-
Mini-Boss Cards
Oni Classic Mini-Boss Card
Monster Cards
-Arcade Monster Cards-
Mini-Boss Cards
Oni Arcade Mini-Boss Card
Monster Cards
-Items and Other Cards-
Reference Card
There are 2 sets of each monsters in this box
Ad blocker interference detected!
Wikia is a free-to-use site that makes money from advertising. We have a modified experience for viewers using ad blockers

Wikia is not accessible if you've made further modifications. Remove the custom ad blocker rule(s) and the page will load as expected.