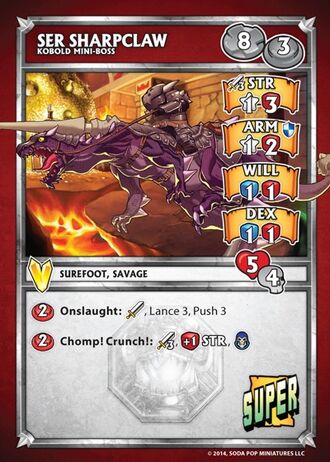 Ser Sharpclaw has distinguished himself among lesser kobolds for his savagery in battle. Atop is Wyrmfang Drake, Ravage, he inspires all those around him to new levels of barbarity. Many Heroes have fallen because they have been ill prepared to face the snarling, biting, stabbing mass of rabid kobolds that Ser Sharpclaw leads into battle.
Classic Stats
Arcade Stats
Type: Kobold Mini-boss
Crystal Affinity: Citrine
Abilities: Surefoot
Signature Action: Zealotry
Unique Actions: Chomp! Crunch!
Movement Points: 8
Action Points: 3
Strength: 4W
Armour: 3W
Range: 3
Hearts: 7
Gameplay
Classic Mode
Ser Sharpclaw is mobile with Move 8 Surefoot, and has two very nice attacks: Chomp! Crunch (+1R STR Bane AP2) is better than Onslaught (Lance 3 Push 3 AP2), but both have uses. In addition, he keeps up the theme of Kobolds buffing each other with an Ability, not Action, called Savage (Aura1 +1W STR to Minions). Overall, he's a solid and versatile Miniboss. 
Arcade Mode
[insert tips for play]
Alternate Profile
Available Through