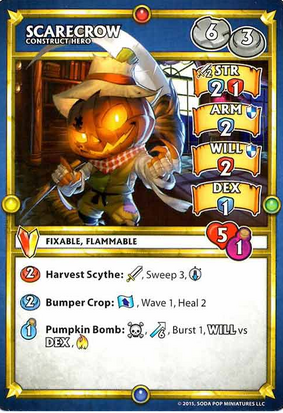 Given life by cackling hedge wizards and village crones, Scarecrows are charged with protecting both village and farm from the predation of the Dark Consul's monsters.
Type: Construct Hero
Unique Actions: Harvest Scythe, Bumper Crop
Potions: Pumpkin Bomb
Movement Points: 6
Action Points: 3
Strength: 2B1R (Melee Attack, Range 2)
Armor: 2B (Defense)
Willpower: 2R (Defense)
Dexterity: 1B
Hearts: 5
Potion Quantity: 1
Gameplay
Edit
Something useful?
Alternate Profile
Edit
Available Through
Edit
Ad blocker interference detected!
Wikia is a free-to-use site that makes money from advertising. We have a modified experience for viewers using ad blockers

Wikia is not accessible if you've made further modifications. Remove the custom ad blocker rule(s) and the page will load as expected.