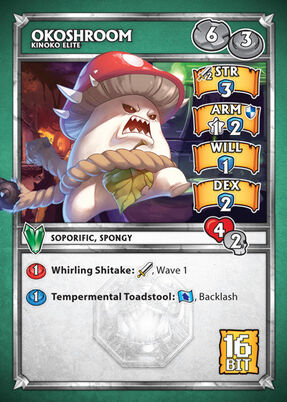 As a Kinoshroom grows it becomes a venerable Okoshroom. Okoshroom leave behind the bounciness of youth and trade it for the whirling spin of wisdom - wisdom is the Okoshroom's assertion. The spinning is the primary thing. Just keep spinning. Just keep spinning. Spinning. Spinning. Spinning...
Type: Kinoko Elite
Crystal Affinity: Emerald
Unique Actions: Whirling Shitake, Tempermental Toadstool
Movement Points: 6
Action Points: 3
Strength: 3B (Melee Attack, Range 2)
Armor: 1W2B (Defense)
Willpower: 1B
Dexterity: 2B
Hearts: 4
Skull Points: 2
Monster Platform: 16 Bit
Spawning Point: Fungal Growth
Gameplay
Edit
Okoshrooms are weird. Whirling Shiitake (Wave 1) seems okay, but its STR is too low to do much damage; likewise, while it can give itself Backlash the ARM is not super reliable. Still, it's actually better than the Blaze Beetle's and is just hilarious to use. It also has a lot of AP for its attacks.
Available Through
Edit
Ad blocker interference detected!
Wikia is a free-to-use site that makes money from advertising. We have a modified experience for viewers using ad blockers

Wikia is not accessible if you've made further modifications. Remove the custom ad blocker rule(s) and the page will load as expected.