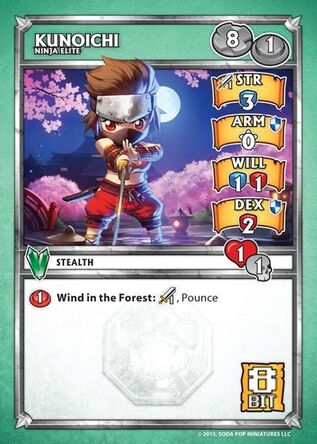 Kunoichi are specialized female fighters and scouts for the clans. Though deadly and widely trained in the ninja arts, the kunoichi put particular emphasis on speed and agility. In battle, kunoichi focus on key missions such as scouting targets and carrying vital missives.
Type: Ninja Elite
Crystal Affinity: Emerald
Abilities: Stealth
Unique Actions: Wind in the Forest
Movement Points: 8
Action Points: 1
Strength: 3B (Melee Attack, Range 1)
Armor: 0W (Defense)
Willpower: 1B1R
Dexterity: 2R (Defense)
Hearts: 1
Skull Points: 1
Monster Platform: 8 Bit
Spawning Point: Elemental Shrine
Gameplay
Edit
[insert gameplay tips]
Available Through
Edit
Ad blocker interference detected!
Wikia is a free-to-use site that makes money from advertising. We have a modified experience for viewers using ad blockers

Wikia is not accessible if you've made further modifications. Remove the custom ad blocker rule(s) and the page will load as expected.