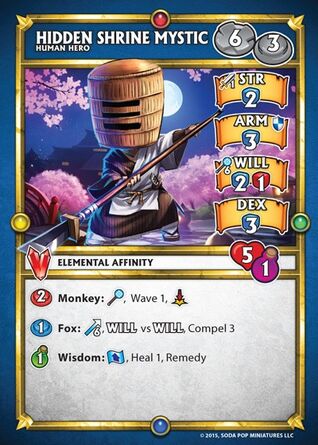 All life flows with the elements. Here, let me demonstrate with my spear.
Type: Human Hero
Crystal Affinity: Ruby
Abilities: Elemental Affinity
Potions: Wisdom
Movement Points: 6
Action Points: 3
Strength: 2B (Melee Attack, Range 1)
Armor: 3B (Defense)
Willpower: 2B1R (Magic Attack, Range 6)
Dexterity: 3B
Hearts: 5
Potion Quantity: 1
Gameplay
Edit
The Hidden Shrine Mystic is the ninja magic user. An ARM of 3 blue and WILL of 2 blue and 1 red are good starting Hero attributes.
Monkey is a great area effect offensive action, that uses the Mystic's WILL. Knockdown is icing on the cake, made all the sweeter when paired with Water or Fire Affinity for double status effect dealing devastation!
Fox is a board control ability that requires opposed WILL rolls to execute. If the Mystic wins it may move the target 3 squares in any direction. Fox's low cost of only one action point is very important, making it an easy ability to use for minor positioning while still attacking.
Wisdom brings emergency healing to the ninja trio, Healing one wound and removing all status effects thanks to Remedy.
Available Through
Edit
Ad blocker interference detected!
Wikia is a free-to-use site that makes money from advertising. We have a modified experience for viewers using ad blockers

Wikia is not accessible if you've made further modifications. Remove the custom ad blocker rule(s) and the page will load as expected.